FREE COMMUNITY EVENTS GIRLS AGES 4-18 ALL LEVELS ALL ABILITIES
SKATE
RISING
IS...
LEARNING
SERVING
SKATING
EMPOWERING
LIVING WITH COMPASSION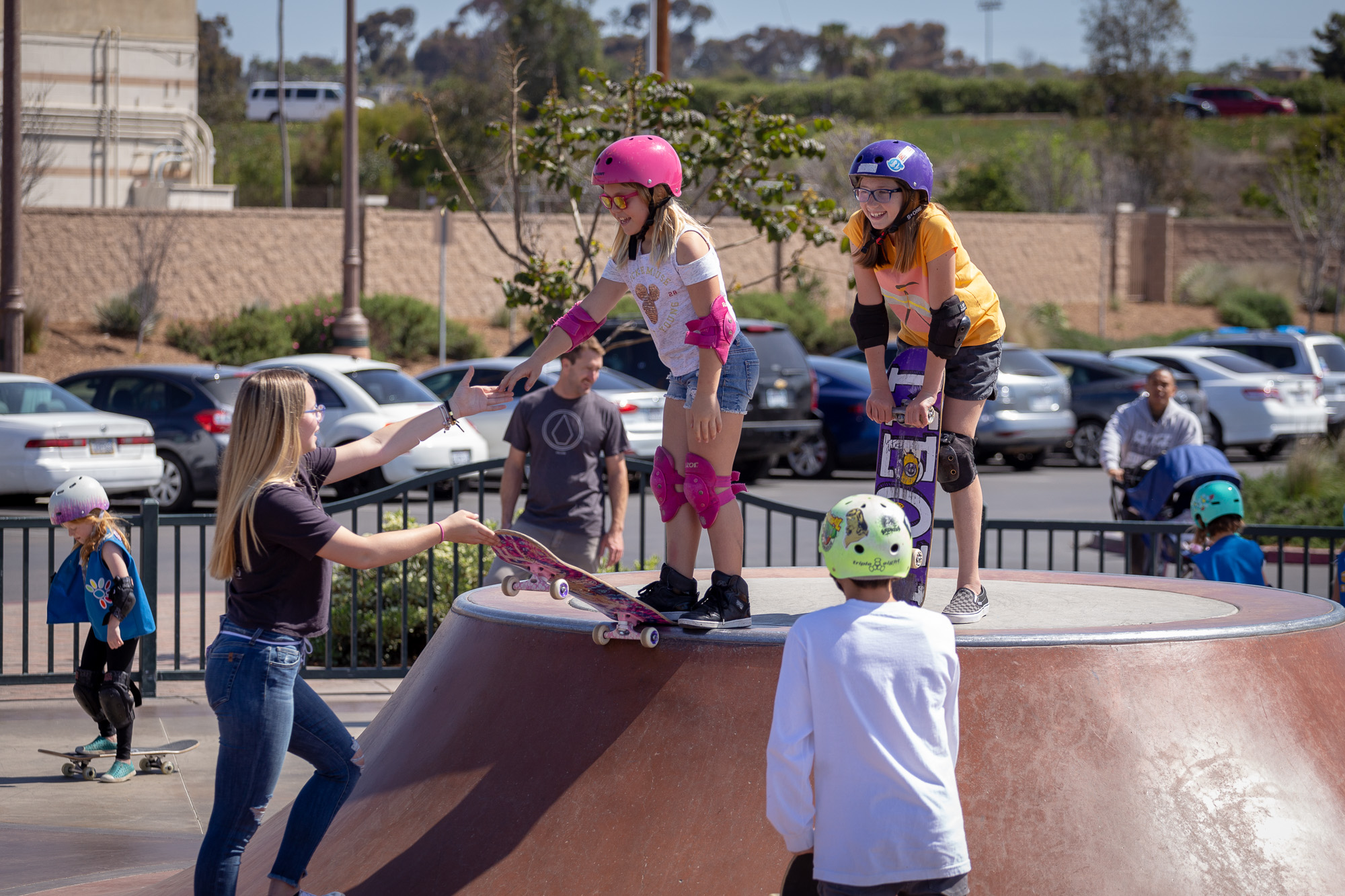 LEADING WITH KINDNESS
SAN DIEGO! ENCINITAS COMMUNITY SKATE PLAZA JOIN US!
Skate Rising offers free monthly classes consisting of a teaching moment where girls learn about a need in the community, a service project designed to alleviate that need, and a learn-to-skate clinic taught by professional and Olympic skateboarders. Skaters of all ability levels, ages 4-18, are welcome.
Participants in the Service Learning projects have compiled support kits for homeless individuals and international refugees, activity kits to entertain hospitalized children, back-to-school backpacks for lower income communities, and empowerment journals for victims of domestic abuse. Participants are further invited to stand up to bullying by signing a "Commit-to-Kindness" contract.
Combining skateboarding and service opportunities motivates girls to confront challenges, support community, and to set personal and collective goals. Empathy and compassion are fostered naturally through these events.
Our goal is to help girls not only better themselves, but the world around them.
Throughout the years, Skate Rising has held community events across the United States and on a global scale. Our "Kind is Cool"  assemblies, featuring professional skateboarding demonstrations, have impacted students in schools throughout California.
We are always looking for more ways to contribute to our community, and to teach our girls to do the same. 
Over the years, many local and visiting industry professionals have volunteered their time to Skate Rising, including; long-time skateboarding pro, Neal Mims, local Olympians Bryce Wettstein & Jordan Barratt, Nitro-Circus favorite, Beaver Fleming, our own Exposure Skate Co-Founder (and Olympian!), Amelia Brodka, and too many So-Cal based skateboarding pros to list.
Every one of our monthly Skate Rising sessions includes multiple skateboarding pros, ready and willing to help our girls feel empowered to persevere.
SKATE RISING SCHEDULE 2022
All events are scheduled from 9:00 – 11:00am
(Unless otherwise noted)
Date, Locations, and Programming subject to change. Please follow @skaterising on Instagram for most up to date information.

| DATE | LOCATION | PROGRAMMING |
| --- | --- | --- |
| March 12, 2022 | Encinitas Skate Plaza | "CommUNITY" Messages of HOPE |
| April 9, 2022 | Encinitas Skate Plaza | Skate Rising Programming TBA |
| May 7, 2022 (2:00 – 4:00 pm) | Encinitas Skate Plaza | Mother/Daughter Skate Session |
| June 11, 2022 | Encinitas Skate Plaza | Skate Rising Programming TBA |
| July 9, 2022 | Encinitas Skate Plaza | Skate Rising Programming TBA |
| August 13, 2022 | Encinitas Skate Plaza | Skate Rising Programming TBA |
| September 10, 2022 | CANCELED DUE TO RAIN | CANCELED DUE TO RAIN |
| December 12, 2022 | Encinitas Skate Plaza | Skate Rising Programming TBA |
PLEASE NOTE: We have moved to a digital registration process. All Skate Rising participants must complete our Registration form and Liability Waiver prior to each program. Thank you.
Skate Rising offers safety equipment, trained coaches, educational supplies and free raffles. We aim for participants to leave each event with new-found confidence, a sense of community, and the motivation to support the world around them.
As a 501(c)(3) organization, we depend upon donations to reach our goals of Empowering Girls Through Skateboarding. Please consider giving so that we may continue to grow and reach more girls and communities in need. Thank you.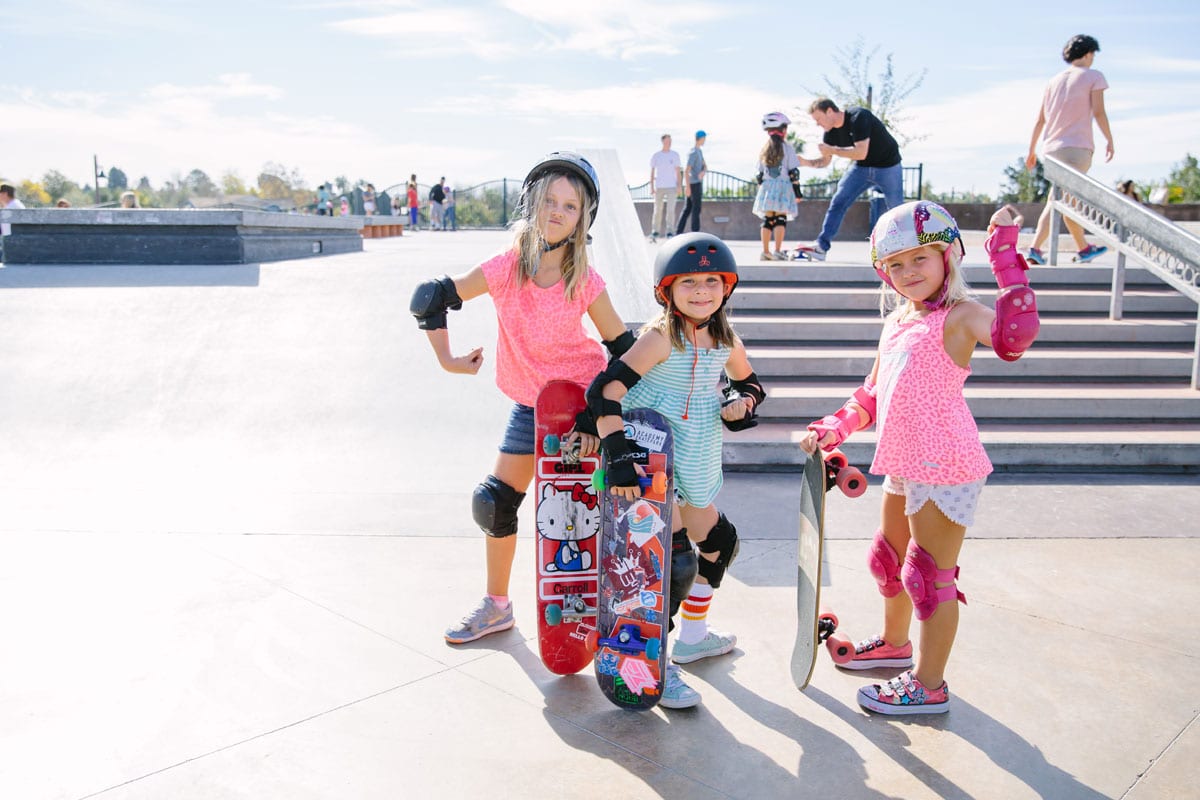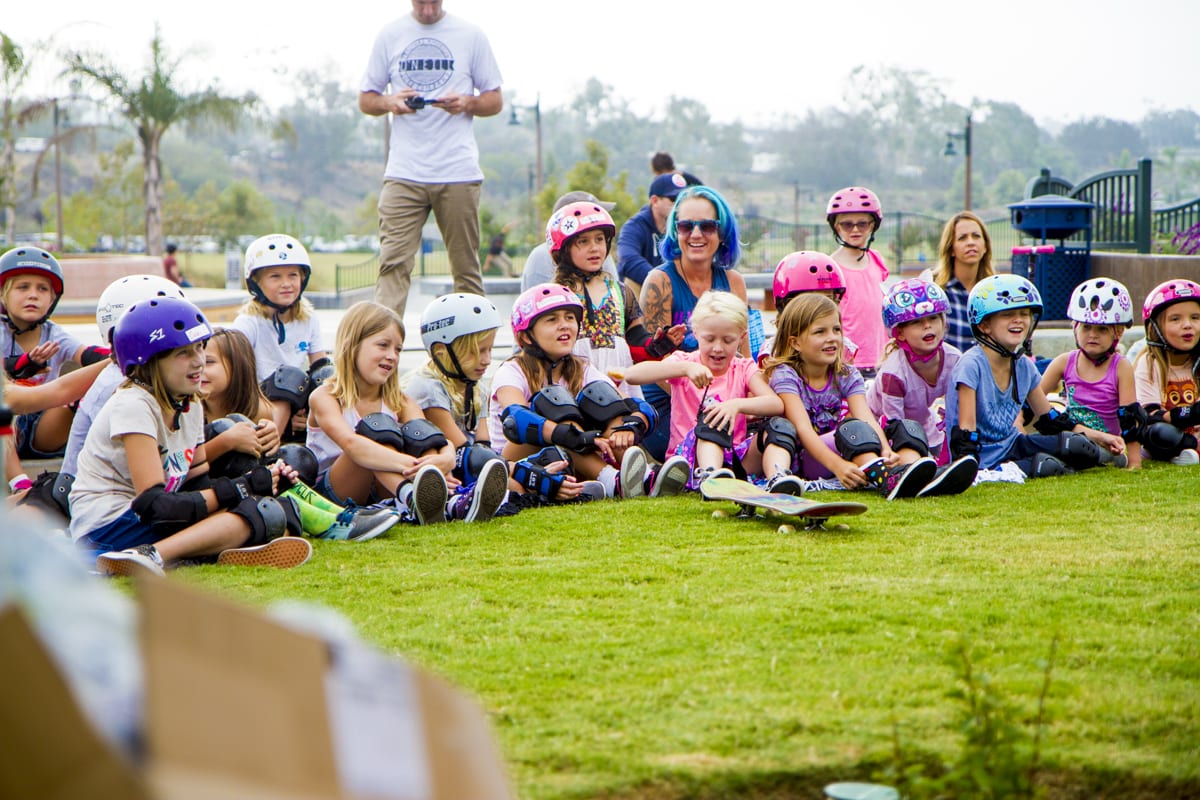 "These events are amazing! My girls had been wanting to skate for a long time but were too intimidated at the skate parks to really try anything. Going to these events has been a game changer for them! Having a bunch of other girls who are skating, along with a few pros to help them get started, has given them the confidence they needed to skate. All of this, plus an opportunity to think about and serve other people in need. We love skate rising!"
"As a father of two girls, it's very important to me that they feel like they can do and be anything they want in life. Skate Rising instills this in our girls in a number of ways. Each month they are able to see the progress they've made from practice and dedication. They're able to see and hear from other women in the community that are making a difference through service and hard work. Skate Rising is such a fun organization to be involved in while developing all those qualities we want our children to have!"
"I am so happy we found Skate Rising. The girls learn how to skate in a safe environment while learning about relevant issues in their community and how they can make a difference. It is so great to see my daughter help the little ones with their skating and make new friends each month."
"Skating really can pull people of all walks of life. This has been so fun for me to be able to introduce my daughter to what's possible, then make it real in the same moment. Thanks for holding these events in Phoenix, they have helped her progression tremendously."